Worldwide Release of CD-Cops on Dictionary
One of the largest publishers in the world Macmillan Press, have chosen CD-Cops to protect their new CD-ROM dictionary "Macmillan English Dictionary". Both the UK and the US edition are protected with CD-Cops and will be released all over the world. Macmillan chose CD-Cops because of our many years of experience with copy protection of dictionaries. Link Data Security has also protected dictionaries from Oxford University Press and Cambridge University Press.
You can see the Macmillan Dictionary here.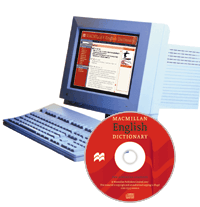 The Macmillan Dictionary
Link Data Security A/S, Vesterbrogade 51, 1620 Copenhagen V
Denmark Phone +45 33 23 23 50, Fax +45 33 23 84 48