WinCops II
For Windows Applications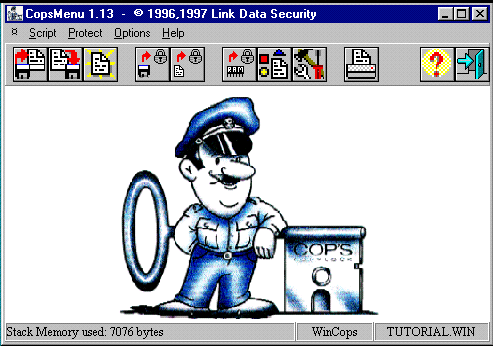 New User-friendly Windows Interface
Supports Windows 3.1, 3.11, Win95/98, NT 3.51, 4.0 & Win 2000
Unlimited DLL size
Powerful Script system
WinCops is an easy-to-use security system designed for the protection of single-user, Windows applications. You own the system and can make as many protections as you like. Your Windows application is protected and transferred to a key diskette which cannot be copied. This key diskette is sent to your customer who can install your program the number of times you have specified. The installed application runs on the target machines, but cannot be copied to others. The program runs normally with no interference from the protection - unless the end-user tries to make an unauthorized copy.
WinCops was first released in August, 1991, and is the result of our 14 years in the data security business. WinCops code security techniques are known and respected all over the world.
Easy for the distributor.
The distributor does not need to make any code changes to his application. He merely runs the WinCops utility, and a small guard module is added to one of the application's DLL files. If no DLL is available, or if one cannot be generated, we can supply a dummy DLL. For those who have the sources and can make code changes, enhanced security is available, both for the DLL and the EXE file.
During installation, the end-user is presented with a few dialog boxes. These messages are configurable, so you can translate them to any language. Once the installation is completed, the protection is totally transparent to the user, and the key diskette is no longer needed. The end-user can backup and restore his hard disk as usual.
High security
The key diskette used during installation is based on principles developed by Link Data Security and has been in use since 1984. This diskette cannot be copied. The DLL itself is encrypted and equipped with debug traps running at priority level zero for maximum security.
No special equipment necessary
The protection itself is made on any PC-compatible machine running Windows 3.1, 3.11, 95 or 98.
Only ordinary, good quality diskettes are required.
The machine installation principle used to guarantee that the software runs only on the target machine was introduced by Link Data Security in 1987. Since then, hundreds of man-hours have been used to develop and perfect this technique. No bad sectors or other unauthorized changes are made to the hard disk.
All of our software packages can be equipped with support for automatic duplication machinery (loaders). Supports Trace, CopyMaster International, Ventuno and all other machines conforming to the Trace-Mountain serial protocol. Does all the work in one pass.
Formats diskettes (any DOS format), copies files, protects files, creates key diskettes and controls automatic rejection of faulty diskettes. Displays the accept/reject statistics. Support for 600 RPM drives and the CompatiCard. Marketed since 1985.