USB-Cops On-Demand
Traditionally distribution on protected USB-sticks have required input data to be protected and encrypted before the final title can be assembled and tested.
A special master image of this plus graphic layout files are then sent to China for production, resulting in freight costs and a turnaround cycle of 2-3 weeks. This is fine for planned productions of titles that don't change too often. Due to this production and freight cost overhead, a not too small volume per title is required, and this can lead to multiple piles of USB-sticks with outdated content.
With USB-Cops On-Demand, a publisher only needs to stock a single type of company USB-stick with a generic logo. Each one can be filled up or refilled with a number of protected titles. Production and encryption is done by the publisher as needed, hence the name USB-Cops On-Demand. The publisher can put title or family name on the other side of the USB-stick, by a sticker, a stamp, or by laser etching.
Further, the USB-stick can be reused since it can be refilled with updated content, either by the publisher or by the end-user via download. Even if the USB-sticks are generic for a publisher, each one is individually marked and the protected files only works where intended. You can sell updated encrypted content to one of your customers, and still avoid that it can be used by other customers having the same title.
You can see with this that the cost of the USB-stick has a lower significance. Reusing the USB-stick hardware may open up new markets, and it is also appealing from an ecological point of view.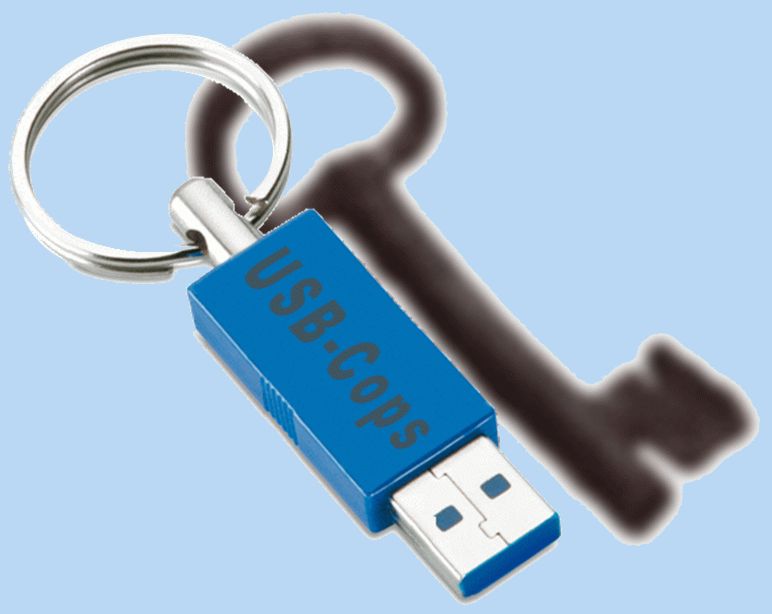 USB-Cops On-Demand advantages over USB-Cops:
- Encryption time for updated content: 0 days.
- Production time in China per title: 0 days.
- Multiple titles can be on one USB-stick (8 -256GB).
- USB-sticks can be refilled by publisher or by end-user.
- Only one type of USB-stick in stock.
- Print-On-Demand production can be made.
- Always updated encrypted files are sent out.
Common with USB-Cops:
- Physical USB-stick production date is laser etched into the USB-plug
- User can write to the USB-stick, making program and user data portable.
- Writability also means that hard drive installation can be avoided.
- Works in PCs, macs, laptop, notebooks and network clients without a CD-drive.
- Supports Windows (XP - Windows 11) & macOS (OS X) 10.10 - 12.x Monterey
- Works with USB 2.X and USB 3.X
- Titles can reside on USB-stick or on hard disk.
- High level of security against piracy.
____________________________________________________________________________________________
=> Cops security products from Link Data Security - www.linkdatasecurity.com